The holidays are upon us, and if you're like me, you're wading through stores and sorting through websites in search of the perfect gift for that special someone on your list. Well, look no further! I have all your shopping needs contained in this one little post. Along with a
whole
lot of weird.
How about a denture bracelet? It's the must-have accessory of the season!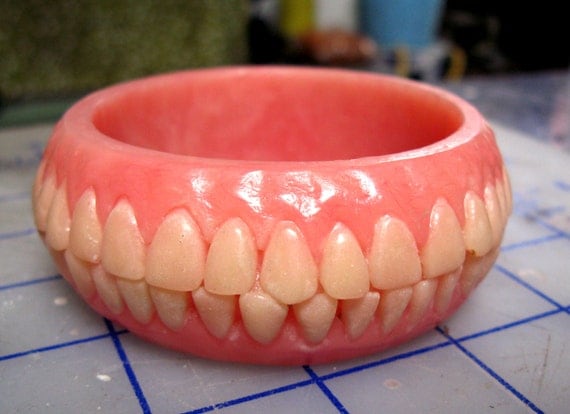 But wait! There's more!
It comes with coordinating rings, in plain and braces!
For the guy who has everything (but class)!
Here's a great gift for mom and baby - the Alien Chest-bursting baby carrier!
And for the other kids on the list, how about this kit for the future doctor in the family?
Or the future barber?
This is just wrong. Very wrong.
And here's bit of high fashion, for the beach lovers out there. You'll note this is a man wearing these. Rock it, darlin'!
You're not the sand-between-the-toes type? How about the grass under your feet?
And finally . . . get a jump on next year's presents with this!
THAT'S IT FOR THIS WEEK'S OFFERINGS!
HAVE A GREAT WEEKEND, EVERYBODY!