Those of you who follow this blog (or know anyone personally with autism) know how hard it can be to have your child in a mall this time of year or around any of the
twinkling lights, cinnamon potpourri and jangling bells and carols.
It's gotten easier for me with David as the years have passed, but still, it's a gamble every time we go into an environment like that. If he's having an off day, the whole world can go kerplooey at the drop of a hat.
That's why I was so pleased to read this article, via WVEC in Hampton Roads, VA, about
special Santas for children with autism
.
These malls schedule visits with Santa before his regular hours, turn off the Christmas muzak, and just let kids relax and have a visit without all that discordance attacking them from every side.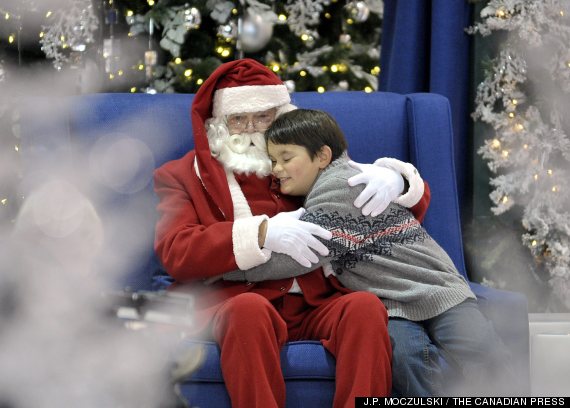 The Huffington Post reports that malls in numerous places across the US and Canada are now hosting special "Quiet Santa" hours for children with autism.
How wonderful is that?
This is all we want - all I want for my son - reasonable accommodation. When a disabled person is wheelchair-bound, he gets a ramp. When a disabled person is blind, you allow his guide dog to accompany him into places that dogs aren't normally allowed to go into. My son is no less disabled by his autism, and allowing him a little time before the crush of visitors into a mall to see Santa in a way that works for him is most definitely a reasonable accommodation.
In this season of love and giving, I'm so glad to see that we're giving the gift of Santa to every child who wants to meet him.